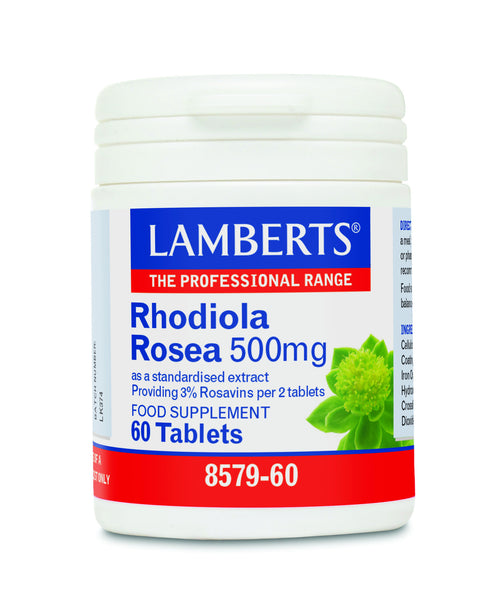 Lamberts Rhodiola Rosea
Lamberts Rhodiola rosea 500mg
(60 Tablets)
Rhodiola Rosea, also known as Golden root or Roseroot, is one of 50 different species of rhodiola and it is this species that is both widely used and trusted, with a long tradition of use.
Rhodiola Rosea is thought to contain a variety of potentially active compounds, the most talked about being the rosavins. Lamberts® Rhodiola Rosea extract is equivalent to 500mg of Rhodiola Rosea with a guaranteed level of 3% rosavins per 2 tablets.
Further Information
Two tablets deliver: Rhodiola Rosea(Provided by 125mg of a 4:1 extract), 500mg Providing 3% Rosavins.
Tableted With: Calcium Carbonate Cellulose Tablet Coating (Colours: Titanium Dioxide Iron Oxides & Copper Chlorophyllin Hydroxypropyl Methylcellulose) Crosslinked Cellulose Gum Silicon Dioxide Magnesium Stearate.
Disintegration Time: Less than 1 hour
Suitable for vegetarians.
Usage & Administration
Take 2 tablets daily with a meal.
Other Information
Allergen Advice: This product is free from wheat, yeast, dairy, soya, nuts, shellfish and Gluten containing ingredients.
Cautions: This product is not recommended for pregnant or lactating women. This product is suitable for all adults.
---