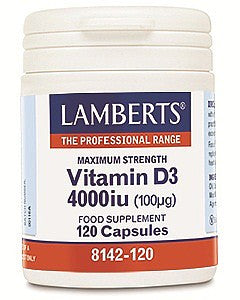 Vitamin D 4000iu
Vitamin D 4000iu
In the absorbable D3 form
(120 Capsules)
High potency one-a-day formula suitable for all adults
Lamberts® Vitamin D 4000iu provides 100µg of this important nutrient in the preferred D3 form and at a strength that is increasingly being recommended to correct deficiencies.

These are small, easy to swallow capsules, which are made in the UK to pharmaceutical GMP standards.

Our bodies obtain vitamin D from two sources, our diet and from the action of sunlight on our skin which drives the natural production within the body. If we all had plenty of sun then we would have plenty of vitamin D, but in reality we do need to obtain some from our diet, particularly during the winter months and particularly in the elderly as the body's ability to manufacture vitamin D declines with age. Indeed as many as 60 percent of the UK population is vitamin D deficient and low levels have been linked to serious health problems in later life
Further Information
A soft capsule.
Each tablet delivers:  Vitamin D (as Vitamin D3) 4000iu (100µg)
Encapsulated With: Capsule Shell (Gelatin,Glycerin), Sunflower Seed Oil, (antioxidant: dl apha Tocopherol) .
Disintegration Time: Less than 30 minutes.
Suitable for vegetarians.
Usage & Administration
1 capsule daily.
Other Information
Allergen Advice: The following list of allergens are excluded: Wheat, Barley, Soya, Eggs, Milk (and milk products), Lactose, Nuts, Sulphites, Celery, Fish, Shellfish, Yeast and Gluten containing ingredients.
Cautions: None known at recommended usage.
Storage instructions: To be stored in a cool, dry place and protected from light.
Legal category: Food supplement.
---