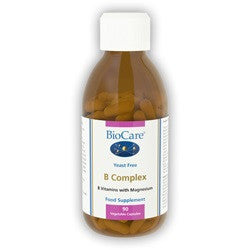 BioCare Vitamin B Complex
(90 Caps)
B Complex provides all the key B vitamins as well as l-glycine and magnesium to support absorption. BioCare's B Complex is vacuum packed for enhanced stability.
Additional Information
B Vitamins have many uses including contributing to the release of energy from foods, supporting the healthy function of the nervous system, contributing to the reduction of tiredness and fatigue and supporting normal psychological function
Vitamins B6 and B12 are presented in their biologically active forms
Vacuum packed to reduce oxidation of the B vitamins
Vitamins B6, B2, B12, C and Biotin contribute to normal functioning of the nervous system
Vitamin B1, B3, B6 and B12 contribute to normal psychological function
Vitamin B1, B2, B3, B5 and B6 contribute to normal energy-yielding metabolism
Vitamin B2, B3, B5, B6 and B12 contributes to the reduction of tiredness and fatigue
Vitamin B6, B12 and folic acid contribute to the normal function of the immune system
Ingredients:
Magnesium Gluconate, Capsule Shell (Hydroxypropyl Methylcellulose), Thiamine (as Thiamine Hydrochloride), Vitamin B6 (as Pyridoxal-5-Phosphate),, Pantothenic Acid (as Calcium Pantothenate), Riboflavin, Niacin (as Nicotinamide), Vitamin C (as Magnesium Ascorbate), Choline Bitartrate, Inositol, L-Glycine,, Para Amino Benzoic Acid, Anti-Caking Agent (Silicon Dioxide & Magnesium Stearate), Folic Acid, Biotin, Vitamin B12 (as Hydroxycobalamine).
Recommended Intake
One capsule taken daily with food or as professionally directed.
Warnings
Long term intake of amounts greater than 10mg vitamin B6 daily may lead to mild tingling and numbness
This product should not be used as a substitute for a varied and balanced diet and healthy lifestyle.
Do not exceed the stated recommended daily intake.
Do not purchase if the seal is broken.
Keep out of reach of children.
If you are under medical supervision, please consult a doctor before use.
Store below 25oC in a dry place away from direct sunlight and heat.
Vacuum sealed for stability.
---