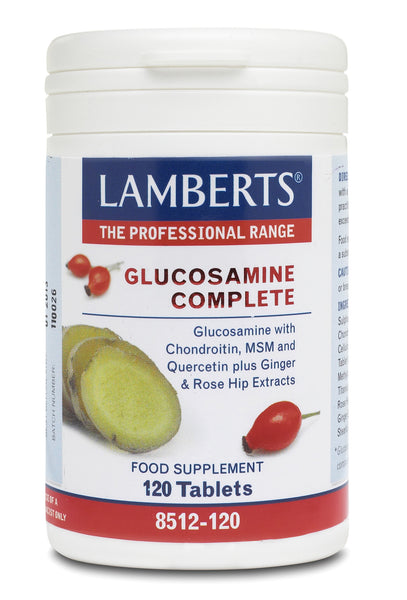 Lamberts Glucosamine Complete
Lamberts Glucosamine Complete
(120 Tablets)
Glucosamine with Chondroitin, MSM & Quercetin plus Ginger & Rose Hip Extracts
This is a high strength glucosamine and chondroitin formula that also provides potent levels of other nutrients. Each ingredient has been selected based on their different, but complimentary, functions and are presented at levels that are nutritionally relevant.
Three tablets provide the full 1500mg of glucosamine sulphate, the level used in many studies, as well as 300mg of chondroitin sulphate (see note below) and 150mg of MSM per daily dose.
The powerful bioflavonoid quercetin has been included at a potent 60mg, plus 1200mg of ginger (as a concentrated extract), as well as 400mg of rose hip. Few, if any, joint formulas provide these potencies in a single formula.
Chondroitin mislabelling: Many companies use a preparation that is just chondroitin but their label may declare this as if it is 100% chondroitin. Therefore a supplement declared as '400mg chondroitin sulphate' is often just 80mg of chondroitin sulphate. Of course this Lamberts® supplement uses 330mg of a 90% chondroitin preparation (per 3 tablets) to provide the 300mg of pure chondroitin sulphate declared on the label.
Further Information
Presentation: A White oval coated tablet.
Three tablets deliver: Glucosamine Sulphate 2KCl 2000mg containing Glucosamine Sulphate 1500mg providing:
Glucosamine Base 1180mg
Chondroitin Sulphate 300mg
MSM (Methylsulphonylmethane) 150mg
Quercetin 60mg
Ginger (from 60mg of a 20:1 extract) 1200mg
Rose Hip (from 100mg of a 4:1 extract ) 400mg
Encapsulated With:
Modified Starch, Cellulose, Tablet Coating (Colour: Titanium Dioxide, Hydroxyprpyl Methylcellulose, Glycerin), Silicon Dioxide, Stearic Acid, Magnesium Stearate.
Disintegration Time: Less than 1 hour.
Usage & Administration
Take 3 tablets daily.
Other Information
Allergen Advice: Glucosamine Sulphate 2KCl is a pure compound derived from shellfish.
Cautions: This product is not recommended for pregnant or lactating women.
Storage instructions: To be stored in a cool, dry place and protected from light.
Legal category: Food supplement.