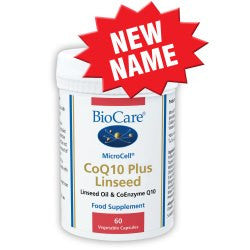 BioCare CoQ10 plus
(60 Caps)
This potent combination of Co-enzyme Q10, Linseed Oil and Vitamin E is micellised to significantly increase absorption and bioavailability. Linseed oil contains 58% Omega-3 fatty acids and 14% Omega-6 fatty acids .
Additional Information
Formerly MicroCell CoQ10 Plus
Highly bio-available micellised CoQ10 and linseed oil
Linseed oil (flaxseed oil) contains 58% Omega-3 and 14% Omega-6 fatty acids and provides a useful vegan form of ALA; an omega 3 fatty acid
MicroCell® nutritional oils are encapsulated in chlorophyll vegetable capsules to maintain stability
Ingredients:
Potato Maltodextrin, Linseed Oil (Flaxseed Oil), Modified Tapioca Starch, Capsule (Hydroxypropyl methylcellulose & Colours (Titanium Dioxide, & Copper Chlorophyllin)), CoEnzyme Q10, Silicon dioxide, Vitamin E (as D-Alpha Tocopherol, Acetate), Anti-caking Agents (Magnesium Stearate & Silicon Dioxide),, Lemon Puree, Antioxidants (Ascorbic Acid, Ascorbyl Palmitate & Natural Mixed Tocopherols1)., Acacia Gum, Sunflower Oil, Preservative (Sulphur dioxide)., ,
Recommended Intake
One capsule taken twice daily with food or as professionally directed.
Warnings
Caution is advised with anti-coagulant medication
If you are under medical supervision, please consult a doctor before use
This product should not be used as a substitute for a varied and balanced diet and healthy lifestyle.
Do not exceed the stated recommended daily intake.
Do not purchase if the seal is broken.
Keep out of reach of children.
Store below 25oC in a dry place away from direct sunlight and heat.