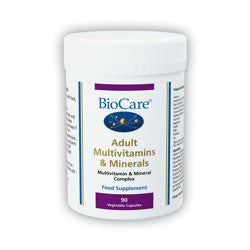 BioCare Adult Multivitamins & Minerals
(90 Caps)
Adult Multivitamins and Minerals is a comprehensive one-a-day capsule for adults, for all round nutritional support. It contains bio-available minerals for enhanced absorption and is iron and copper free.
Additional Information
Optimal bioavailability
Formulated with people with intolerances and allergies in mind
Vitamin C presented in a low acidity form as magnesium ascorbate
Contains Vitamin D2 - suitable for vegans
Contains yeast-free selenium and natural vitamin E
Iron and copper free
Vitamin D contributes to the maintenance of normal bones, muscles and teeth
Vitamin C, B6, B12, D, Selenium and Zinc help to contribute to the normal function of the immune system
B vitamins contribute to normal energy-yielding metabolism
Approved by The Vegetarian Society
Ingredients:
Vitamin C (as Magnesium Ascorbate), Capsule Shell (Hydroxypropyl Methylcellulose), Pantothenic Acid (as Calcium Pantothenate), Vitamin E (as D-Alpha Tocopheryl Acetate1),, Silicon Dioxide, Niacin (as Nicotinamide), Thiamine (as Thiamine Hydrochloride), Calcium Citrate, Magnesium Citrate, Zinc Citrate, Riboflavin, Vitamin B6, (as Pyridoxal-5-Phosphate), Potassium Citrate, Anti-Caking Agents (Silicon Dioxide & Magnesium Stearate), Inositol, Dicalcium Phosphate, PABA, Modified Tapioca Starch,, Acacia Gum, Manganese Citrate, Sunflower Oil, Chromium Picolinate, Sucrose, Corn Starch, Folic Acid, Sodium Molybdate,, Vitamin A (as Retinyl Palmitate), L-Selenomethionine, Potassium Iodide, Biotin, Vitamin B12 (as Hydroxycobalamine), Antioxidant (Natural Mixed Tocopherols1), Vitamin D2 (as Ergocalciferol).
Recommended Intake
ne capsule taken daily with food or as professionally directed.
Warnings
Long term intake of amounts greater than 10mg vitamin B6 daily may lead to mild tingling and numbness
If you are under medical supervision, please consult a doctor before use.
This product should not be used as a substitute for a varied and balanced diet and healthy lifestyle.
Do not exceed the stated recommended daily intake.
Do not purchase if the seal is broken.
Keep out of reach of children.
Store below 25oC in a dry place away from direct sunlight and heat.