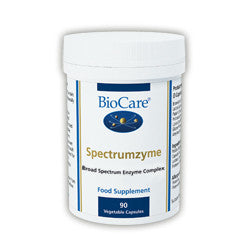 BioCare Spectrumzyme
(90 Caps)
Spectrumzyme is a broad spectrum enzyme complex which includes Bromelain, Lactase, Papain, Protease, Lipase, Gluten Protease and Amylase. Presented in capsules this formulation is acid stable against stomach acid pH.
Additional Information
High potency, broad spectrum enzyme complex
All enzymes are from vegetable sources
Acid stable against stomach pH and able to retain digestive capability over a wide range of pH variances
Ingredients:
Potato Maltodextrin, Bulking Agent (Cellulose), Bromelain, Capsule Shell,, (Hydroxypropyl methylcellulose), Papain, Lactase, Anti-caking Agent, (Magnesium Stearate), Protease, Lipase, Gluten Protease,, Amylase.
Recommended Intake
One capsule taken with each main meal (max 3 capsules daily), or as professionally directed.
Warnings
Caution is advised for individuals with colitis, gastritis or ulcerative conditions of the stomach/intestine.
If you are under medical supervision, please consult a doctor before use
This product should not be used as a substitute for a varied and balanced diet and healthy lifestyle.
Do not exceed the stated recommended daily intake.
Do not purchase if the seal is broken.
Keep out of reach of children.
Store below 25oC in a dry place away from direct sunlight and heat.