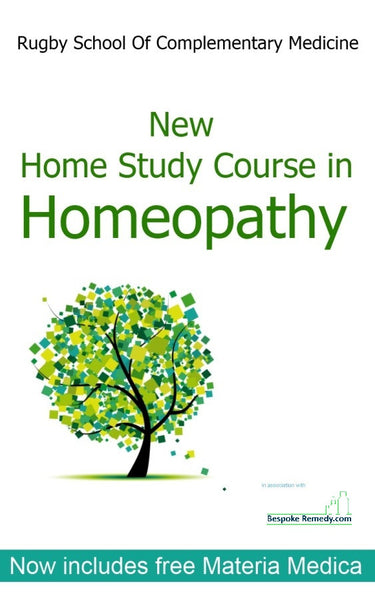 New Home Study Course in Homeopathy
Regular price
$160.00
Sale price
$32.00
---
Would you like to learn more about how Homeopathy works?
Do you want to choose the right remedies for you and your family with confidence?
Are you put off by the thought of long, drawn out study courses?
You can now learn the basic principles of Homeopathy from the comfort of your own home with the New Home Study Course in Homeopathy!
The New Home Study Course has been written to enable the reader to select and use Homeopathic remedies confidently and safely.

Previous courses have been either too complex, presuming the student already has a background in Homeopathy or they have told the students of the wonderful things that Homeopathy can do - without giving sufficient information to enable them to use and benefit from what they have learned. This course has been used by the RSCM for over 25 years and is now available in digital format.

SUMMARY OF THE COURSE
One of the Main Principles of Homeopathy is "let like be cured by like". This takes into consideration the whole person, not just the apparent symptoms.
The first lesson explains the difference between holistic medicine and what you may have been used to with orthodox western medicine. We discuss what disease actually is and introduce the basic principles upon which you will be prescribing.
Lesson two deals with Case Taking - the art of drawing out the complete picture of the whole person being treated, and the peculiarities of their disease pattern.
Lesson three introduces you to the Materia Medica text book of medicines that you will receive with this course and compares remedies giving their actions and interrelations.
The Repertory is dealt with in lesson four, the value of being able to use a repertory properly being essential to good prescribing. This lesson also includes a repertorisation sheet.
Lesson five deals with two very important subjects: the selection of which potency to use and dosage. This lesson also considers how to analyze reactions to remedies.
Lesson six touches on some of the philosophy behind Homeopathic Principle in the chapter "Hahnemann and the spirit-like Dynamis". There is also a section on allergies.
Lesson seven gives specific case examples showing how to put all the information into practice.
The final section of this EBook is a Materia Medica of the common remedies you are most likely to need.